Boston Preview of Ken Burns / Lynn Novick film series on Vietnam - Sept. 6
On Sept. 17 WGBH will start to air the Burns/ Novick 10 part documentary on the Vietnam War. Locally, however, WGBH has scheduled a one-hour preview of the series on Sept. 6 here in Boston that features Burns and Novick in person for a Q&A following the preview. It's the first of many upcoming opportunities to make sure we do our best to set the record straight on why we went to war there in the first place and what really happened. The Sept. 6 preview is at John Hancock Hall, 180 Berkeley St, Boston. 7:00 - 9:00 p.m. The Q&A will be moderated by Jim Braude and Margery Eagan, hosts of Boston Public Radio. Admission is $15.00 and tickets can be purchased on line atwgbh.org/events. We want to encourage all Smedleys who can to attend this preview. We will be handing out copies of the Full Disclosure newspaper to attendees as they enter. We could use your help and would appreciate your letting us know if you're available to pitch in. Please let us know by writing vfpsmedley@gmail.com.
Veterans For Peace has developed a platform of resources that provide insights to the strengths and weaknesses of this documentary along with suggestions as to how we can get involved in various forums that will or should take place. Please see below, especially the Full Disclosure newspaper and the attached review by Thomas Bass - America's Amnesia. These resources will sharpen and provoke memories of what we all experienced.
The Vietnam War & Full Disclosure
In September 2017, PBS will air a
documentary about the Vietnam War
, directed by respected documentarians Ken Burns and Lynn Novick. The goal of this 10-episode, 18-hour project is, according to the directors, to "create a film everyone could embrace" and to provide the viewer with information and insights that are "new and revelatory." Just as importantly, they intend the film to provide the impetus and parameters for a much needed national conversation about this controversial and divisive period in American history.
The film will be accompanied by an unprecedented outreach and public engagement program, providing opportunities for communities to participate in a national conversation about what happened during the Vietnam War, what went wrong and what lessons are to be learned. In addition, there will be a robust interactive website and an educational initiative designed to engage teachers and students in multiple platforms.
The release of
this documentary
is an opportunity to seize the moment about telling the full story of the U.S war on Viet Nam.
What Can You Do?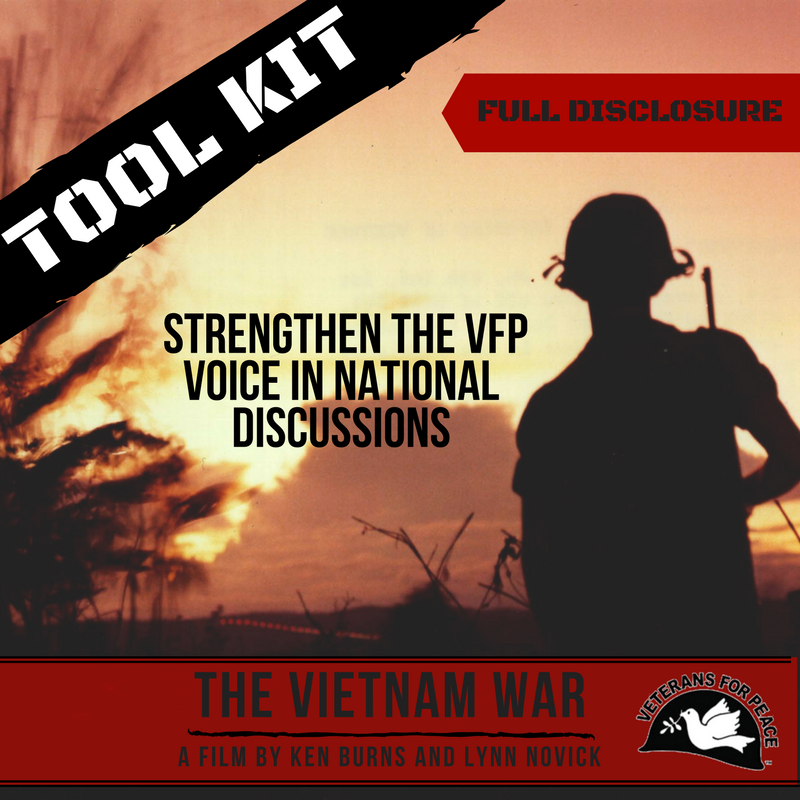 ---
Want to Continue to Be Part of the Conversation?
Sign up to be on the "Full Disclosure" email list if you want to communicate with VFP activists around the country who are working on this.
To join the Vietnam Full Disclosure "google group" you must have a Google login. Once logged onto Google, go to:
http://groups.google.com/group/vnfd
and submit a request to join the group.
Alternatively, send a request to group manager Becky Luening at
becky.pdx@gmail.com
and she will directly add you to the group. After being subscribed, anyone can post to the group via the email address
vnfd@googlegroups.com
Get involved in this rare opportunity to get America talking about what really went down in Viet Nam!
--
You received this message because you are subscribed to the Google Groups "SmedleyVFP" group.
To unsubscribe from this group and stop receiving emails from it, send an email to
Smedleyvfp+unsubscribe@googlegroups.com
.
For more options, visit
https://groups.google.com/d/optout
.